Exhibition Design Services
Event & Exhibition Rolling Presentations
Large rolling plasma presentations, screen savers and data collection terminals are all key elements in your exhibition marketing mix.
Exhibitions and events are expensive; we will help make them work. View Presentation

Exhibition Digitally Illustrated Presentations


This presentation ran at an exhibition and invited visitors in need of refreshment to come in and have a coffee and a chat. The exercise built brand awareness.
Visitors were also given a bag of goodies and as they left were invited to fill in their details on data capture computers, also programmed by Drawn.

3D Animations
Duplicating messages across communicating media means design continuity, reduces communication 'noise' and will save massively on development and printing costs.

Infodiagrams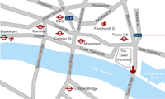 We are here to help whatever your need, for whatever sized project.
In order for your target market to receive a clearer message, complex concepts and information can be simplified and fit in with your company's visual style.
This was a one off map for an exhibition in the same style as the brochure and website.

Plasma Screen Presentations



Communicating complex propositions requires a specialist approach to enable key messages to be passed to your audience within seconds.
The message must then be turned into visuals that both convey and retain 100% of that message. The featured presentation had no voice over and therefore adhered to these principles with excellent results. Request presentation