David Kenyon Creative Director

David Kenyon has designed and developed web sites since 1996; over 15 years of experience designing both cutting edge and functional business solution applications.

Educated at Ackworth School (9 GCSEs, 6 University of Cambridge IT Certificates, 3 A Levels, 3 Duke of Edinburgh Awards) and earning a BSc(Hons) 2:1 degree from Coventry University in Business and Marketing. On graduating, he began carving a niche developing the uncommon ability for both programming and design.

David began web designing in the Lake District in 1997. The same year he moved South to work in London for what turned out to be a fun filled 10 years. After working at the heart of London's Leicester Square developing interfaces, applications and web sites (for among others Virgin and BT) he started Drawn Design Consultancy (Drawn). In 2007 he moved even further South to live in Birmingham, Alabama, a city right in the middle of the South East United States. Thanks in large part to new technology which allows more flexible working hours, Drawn can effectively operate services for business on each side of the pond.

David has worked on projects for the following companies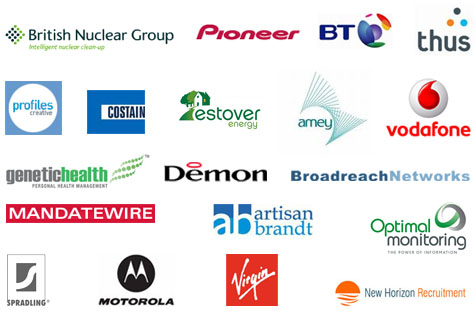 All logo images and identifiers used above are copyright of their respective owners.
Timeline
2005-Present Drawn Design Consultancy Creative Director/Owner
www.drawndesign.com
Web development and web hosting company based in London, England and Birmingham, Alabama. Responsible for all business management and production for our clients.
2004-2005 BroadReach Networks Web Interface Developer
http://www.qinetiq.com (Qinetic now own BroadReach)
Chief designer/programmer for a Virgin & Eurostar on-train Wi-Fi interface.
Connecting Flash ActionScript, JavaScript, DHTML/DOM programming
ASP, XML and SQL database connectivity to a Graphical user interface (GUI).

2002-2004 Optimal Communications Web Developer
www.optimalcomms.co.uk www.optimalcomms.net
Application and interface development for online monitoring systems and corporate site management.
1999–2002 Ten87 Advertising Agency Digital Media Designer
Responsible for designing, programming and producing all digital media for clients.
1998–1999 e-Directory.co.uk Web Designer
www.edirectory.co.uk
Development of the online product store for this brand new company. Learning the art of a fast turnaround, tight deadlines and project planning along the way.
Favourite Sites
http://www.bbc.co.uk
http://www.thefwa.com/